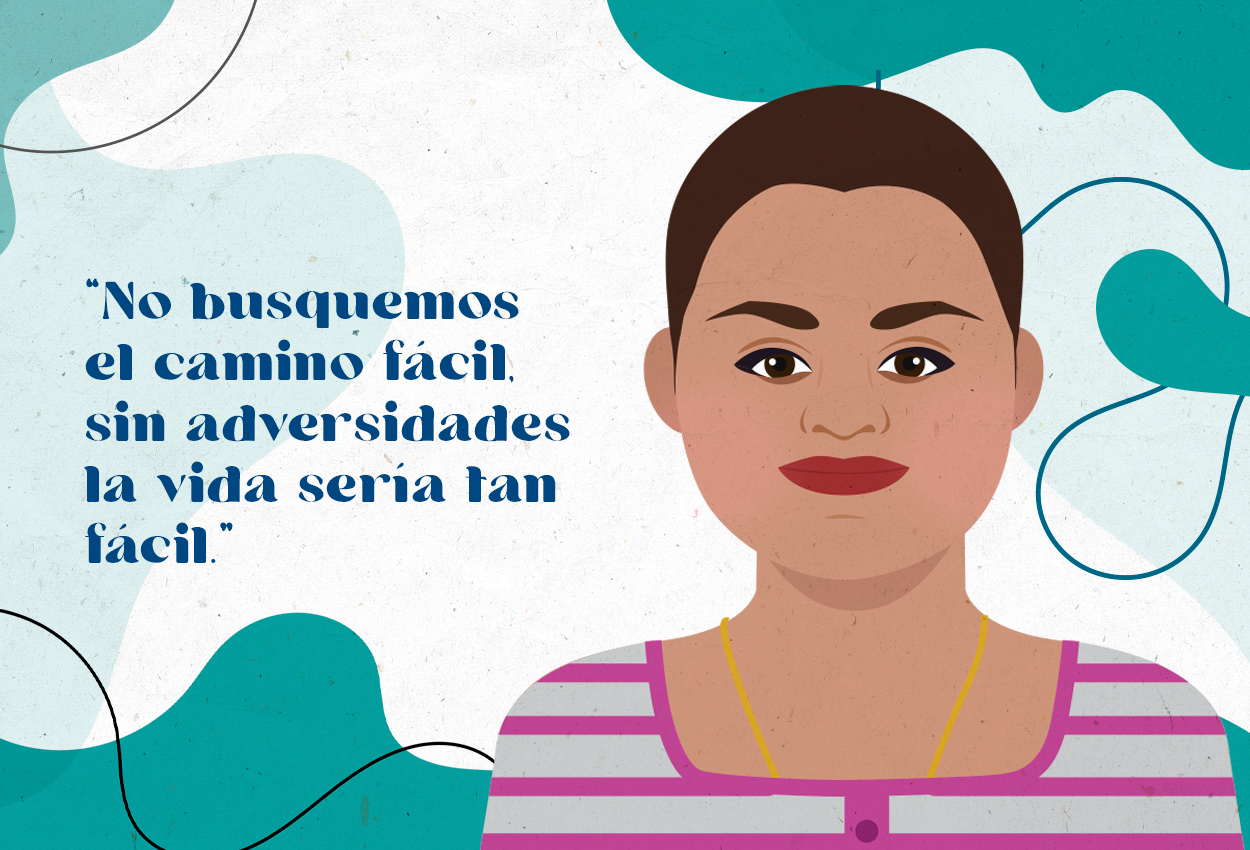 Herlinda Jaramillo
Villahermosa, Tabasco
Illustration by Berenice Tapia
Text prepared by Rocío Montemayor
Herlinda is originally from Villahermosa, Tabasco, and it was there where she grew up with her family and friends. She is the 5th daughter of her 6 brothers and sisters, and her family is the most precious thing in her life. She enjoys reading, watching movies and above all spending time with her loved ones.
It was March 16, 2016, Herlinda's first day in the AlEn family, a long-awaited day, since she had already tried multiple times to join the organization. Herlinda mentions not to give up and keep trying until the big day and the opportunity came.
She initially applied for the order coordination position, not thinking that someday, according to her great skills and profile, she would be offered the position of Finished Product Warehouse Supervisor, and without thinking about it, she took the challenge.
AlEn is a very important part of her life, since she has been able to develop herself personally and professionally for 7 years now. The company has given her the opportunity to overcome different challenges and obstacles, to learn processes and above all to go beyond and thanks to that, to put into practice all her knowledge on a personal level. Today she is opening a water purification plant, of which she is very proud.
It is a project that she has wanted for many years, that she has fought and worked with great care and enthusiasm to be able to provide a better quality of life for her family.
One of Herlinda's dreams is to grow more, to become a warehouse or logistics manager, one of her favorite topics is innovation and quality of processes; the passion she has for her work makes her have the vision to achieve everything she sets out to do, family values and foundations are her strongest weapon.
Herlinda's greatest achievement has been to be able to move her family forward in spite of the adversities she has faced. It has been very hard for her to be the one to move her home, her family and her brother with epilepsy problems forward on her own.
Her mother is her inspiration, as she is a woman who is a fighter, kind, smiling and always looks for the good side of things to overcome obstacles and move forward with the best smile. Herlinda is described by her colleagues, friends and family as a woman who is passionate about her work, who always seeks to do things well, a strong woman and a warrior who has managed to get ahead on her own.
Her advice to more women is: "Keep your head held high, and believe in your capabilities, today we have the same opportunities as men and we should not be intimidated by taking on the same challenges as men. Let's form ourselves head on with strength and energy believing mainly in ourselves, to achieve absolutely everything we set our minds to."
Herlinda mentions "It is healthy that someone else knows your story, to encourage each other, there are similar situations that we live as women and help us to empathize and take more strength".
"Let's not look for the easy way, without adversity life would be so easy, it would be meaningless."
-Herlinda Jaramillo, Warehouse Supervisor, Finished Product, Villahermosa
This website celebrates the talent of the AlEn Women, by telling their inspiring stories and anecdotes accompanied by ilustrations made by AlEn women graphic designer.
Come back each month to read more stories from our inspiring AlEn women.