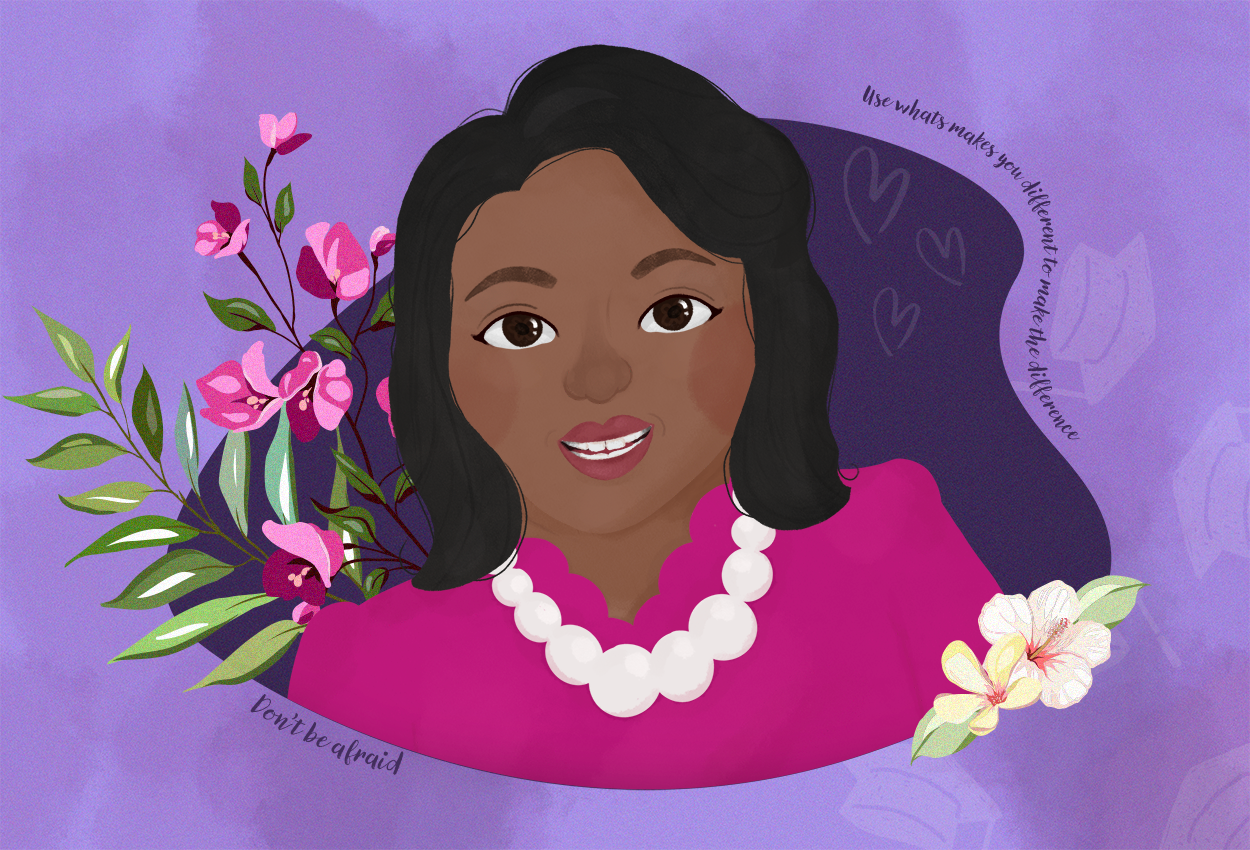 Alexis Jefferson-Huff
Houston, Texas
Illustration by Mayra Viteri
Text prepared by Miguel Mena
Let's cross the border to the United States to learn Alexis' story and her admirable heart of service.
Alexis is a woman who is dedicated and passionate about her family and work, and who is described by her loved ones as very empathetic to her surroundings. One thing she enjoys doing is helping others. Volunteering her time is an essential part of her life. She participates in volunteer activities, especially to promote people's health and heart care. One of her biggest dreams is to be an inspiring example for many children with her support work.
She has been part of the AlEn family for more than 10 years, and has transcended into service through AlEn USA's Finance Department since day one. She loves working at the company, and one memorable thing she tells us is that she has seen it evolve from a small office to a full-fledged corporation.
Self-realization is an important part of her life, and she shares with us that this coming December she will accomplish a very big goal for her? proudly, she will finish her university studies and could not be happier for this achievement. She is graduating with an associate's degree in business administration. She started her family at a very early age, and had always wanted to finish school, so she never strayed from that goal.
Alexis is a wife, mother of 3 children and grandmother of 4 young grandchildren. She keeps her weekends busy living and enjoying with all of them. Her family is vital to her. She has 4 sisters and a brother. She shares with us that her greatest example in life are her sisters. She describes them as strong, inspiring and resilient. They inspire her to be a better big sister, and she always learns something good from them.
Her hobbies include sleeping and watching Broadway musicals, especially Hamilton; she knows the entire soundtrack.
Alexis is an example of inspiration. On this Women's Day, she shares with everyone to "Use what makes you different to make a difference. We all have something different and unique to share, and we can make a difference". One thing she admires about women is that they have a vast capacity to solve problems and see how to make things happen.
She asks all of us to value and take care of ourselves, as we are all very special.
"Use what makes you different to make a difference."
-Alexis Jefferson-Huff, Trade & Promotions Analyst, Houston, Texas
This website celebrates the talent of the AlEn Women, by telling their inspiring stories and anecdotes accompanied by ilustrations made by AlEn women graphic designer.
Come back each month to read more stories from our inspiring AlEn women.