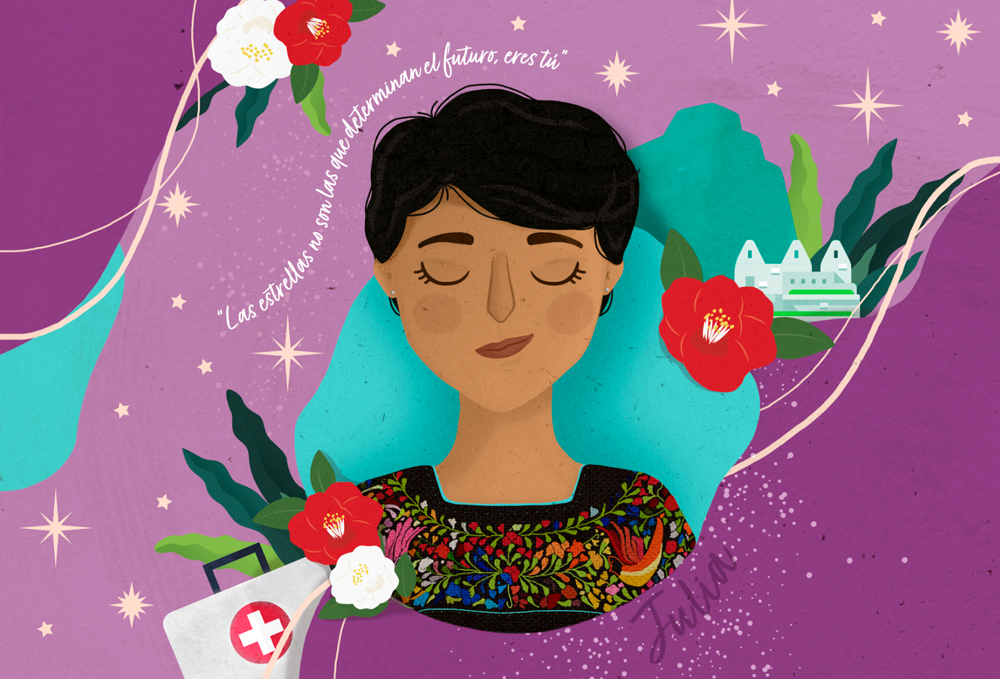 María Estela
53 years old, Puebla
Illustration by Mayra Viteri Agency 361
María Estela was born in the state of Oaxaca, at the age of 9 her family moved to Puebla in search of a better future. She claims to be practically "Poblana" at heart, but always keeping her Oaxacan roots. At 53, she has 3 children and is the grandmother of an 8-year-old granddaughter. She has been separated for 15 years.
María Estela has been at AlEn for 16 and-a-half years as a nurse in medical service in the city of Puebla. She says she loves her job because it allows her to carry out her passion and that she is excited to continue working there for many years to come. With the COVID19 pandemic, her work has been modified and has taken on greater relevance, which fills her with pride to know that she can contribute even more to maintain her colleagues' health.
Without a doubt for María Estela, her mother Julia is the woman she admires the most. When her husband dies, Julia took care of all her children and raised the family. A little less than 1 year ago Julia died of lung cancer and María Estela describes that her mother fought until her last day always full of strength and with a smile on her face.
One of the achievements that fills her with great pride is having her home and educating her children because Maria Estela wants to leave a positive mark on them being an example for them. She wants them to remember her as a responsible, persevering woman, who struggled and fought for her goals.
Maria Estela's biggest dream is to travel to see Machu Picchu. She describes herself as a woman who still needs to do many things and wants to do them. Her favorite phrase is "The stars are not the ones that determine the future, it's you", and writes it in her notebook every year, since this phrase represents that she has to fight and strive for what she wants until she achieves it.
"The stars are not the ones that determine the future, it is you".
- Maria Estela, Nurse, Puebla.
This website celebrates the talent of the AlEn Women, by telling their inspiring stories and anecdotes accompanied by ilustrations made by AlEn women graphic designer.
Come back each month to read more stories from our inspiring AlEn women.