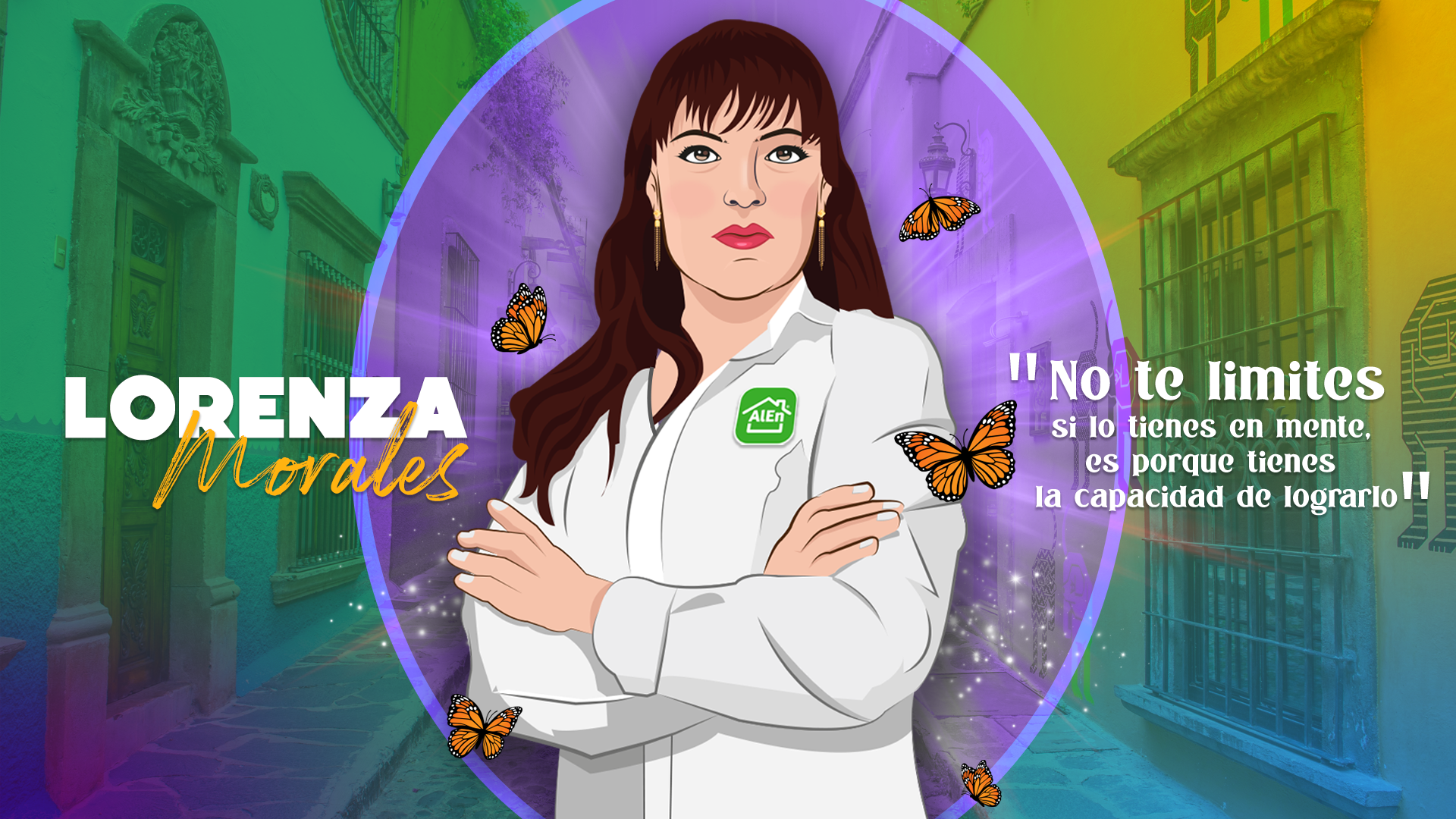 Lorenza Morales
Mexico City
Illustration by José Carlos Alvarado
Text prepared by Guillermo García
Lorenza, who is originally from Mexico City and has Michoacan roots on her parents' side, joined the AlEn family 10 years ago. While looking for an opportunity to continue growing professionally, she came across an opening with us, and upon learning what AlEn could contribute to her development, she decided to apply.
"I remember seeing the vacant position and immediately wanted to learn more about the company. I was surprised to see how good it was and I made the decision to apply, thank God I was able to get in!", Lorenza shares with us.
She currently works as Promotora Impulsora, and starting her days early in the morning, what she enjoys most about her responsibility is the connection with all the people she interacts with.
Her activity is essential for Grupo AlEn, the pandemic helped her realize how essential her role was and still is, to bring cleanliness and disinfection to every corner of the State of Mexico, which is where she mainly operates.
Lorenza loves to be on the move, and is grateful that her role allows her to do so because she is a very active person.
For her, her greatest achievement is being able to bring her knowledge to AlEn to create a solid sales strategy that will allow her to reach our products further.
Lorenza is part of a family of warriors, as she calls them, who have worked very hard to give her and her siblings the best. Her biggest inspiration is her parents, who have taught her to pursue her dream and achieve whatever she sets her mind to, no matter how big it may be.
AlEn has taught her many things, and for her the most important thing is the determination to be able to achieve anything she sets her mind to, and that is the message she wants to share with the AlEn Women: never let anyone tell you that you can't, our strength lies in our essence as women and that gives us a key role in everything we do.
"Don't limit yourself, if you have it in mind it is because you have the ability to achieve it."
-Lorenza Morales Granados, Promotora Impulsora, Mexico City
This website celebrates the talent of the AlEn Women, by telling their inspiring stories and anecdotes accompanied by ilustrations made by AlEn women graphic designer.
Come back each month to read more stories from our inspiring AlEn women.