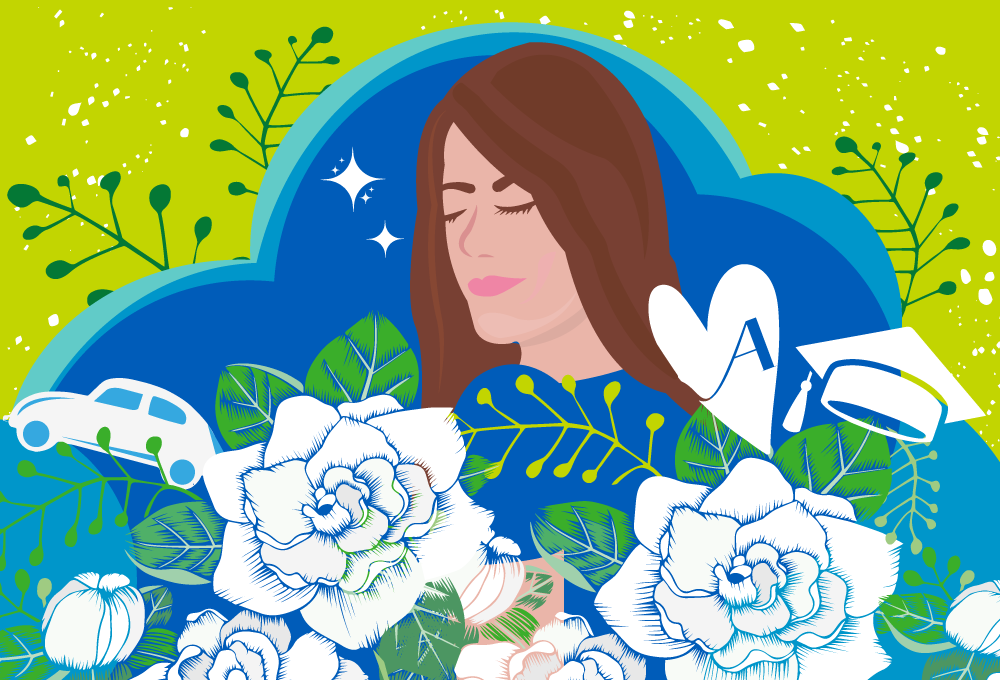 Luz Elena
28 years old, Guadalajara
Illustration by Liz Saldaña Agency 361
Luz Elena is an industrial engineer from Guadalajara Jalisco, she is the only child of a family with 2 mothers, made up by her mother Maria Patricia and her grandmother Angela, who recently passed away. At 28, Luz Elena has her own family with her husband, a 5-year-old daughter and an 8-month-old baby. Luz Elena enjoys drinking coffee, knowing new places and finding elements or symbols that remind her and keep her close to the people she loves the most.
Luz has been a Process Engineer at Grupo AlEn for 3 and-a-half years. Through information analysis, she is in charge of standardizing activities and processes in the production lines at the AlEn plants. For Luz, the most satisfying thing about her work is the recognition and trust she has received due to her skills.
Luz Elena started working since high school to pay for her education teaming up with her mother. Having finished her career and starting to build her family based on unity, love and the communication are among her greatest achievements. Everything she does is for her family; she works for them every day so they feel proud of her. She mentions the happiest days of her life as the birth of her children. She describes her daughter Angela as a very intelligent, helpful and noble person; she enjoys drawing, going to the park and cooking with Luz Elena, who as a child dreamed of being a Chef. Her son Antonio is distinguished by his smile, his happiness and his instinct to experience many things.
Within her professional and personal development, she would like to lead an engineering management position and continue developing her family, having a house and her own business. She likes to interact with people who bring her positive things, to whom she can turn for advice and feedback to improve as a person.
Luz Elena would advise herself as a child, to never to feel insecure about herself and that having suffered bulimia does not define her as a person, instead that she is a beloved, important, intelligent and beautiful woman. That she is not alone, that she has a family that loves her, and to fights for her dreams.
"Family is built based on unity, love and communication".
- Luz Elena, Process Engineer, Guadalajara.
This website celebrates the talent of the AlEn Women, by telling their inspiring stories and anecdotes accompanied by ilustrations made by AlEn women graphic designer.
Come back each month to read more stories from our inspiring AlEn women.