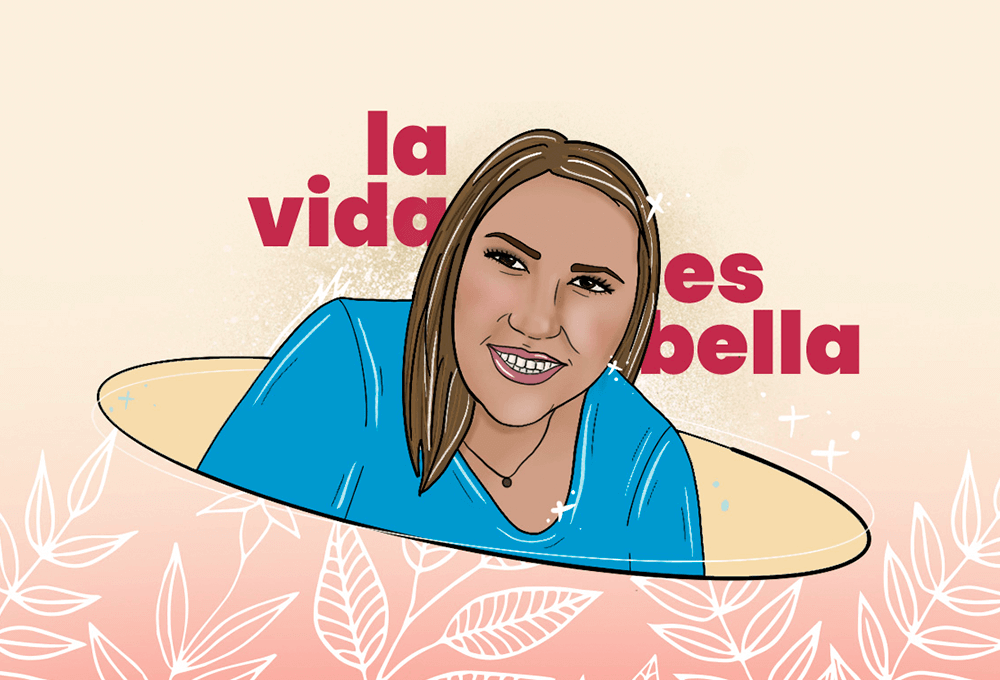 Illustration by Karina Sánchez Agency 361
Mayra is originally from Santa Catarina, Nuevo León. She is part of a large family of 10 siblings. She currently lives with her sister, her nephew, and her brother-in-law, whom she loves and appreciates very much.
Mayra has been collaborating with Grupo AlEn during a long time and has worked as general assistant, has participated in production in the pine oil plant. She was engaged in the beginning of the recycling plant and has currently been working in the Plastics Collection Center for 5 years.
Mayra describes her work at the Collection Center as an opportunity to transform the lives of the people who participate in the different Bottle Collection and Recycling programs. Her main responsibility is to introduce more people to the sustainability world, talking about the importance of caring for the environment while generating economic benefits for their families or social benefits for associations that help vulnerable groups. She enjoys listening to the different partners and schools in the program take pride in being actively involved in caring for the planet and is excited about the impact and growth that the program and her work are having.
Mayra is very proud of the different goals achieved hand in hand with AlEn. She had the opportunity to finish her high school and her degree in psychology, but she states as her greatest achievement being able to build friendships with many people whom she admires, loves and considers as part of her family. She enjoys continuing to dream and improve herself just as her mother and father wanted, whom she remembers with great love after their passing. One of her goals is to travel abroad and learn about other cultures and to be a role model and inspiration for her nephews so they know that there isn't a specific age to study or do what you like.
Mayra finds inspiration in the trajectory of Mujeres AlEn, and considers them as an example of strength, improvement and dedication, finding the following: Alejandra Muñoz from the payroll department admiring her quality as an individual and for raising her family. Amada Alcala from Research and Development for her incredible professional career; Ramzda Torres for her leadership; Erika del Bosque and Osiris Ayala for their continuity and daily motivation.
Since she was very young, Mayra has repeated to herself: "Life is Beautiful, you have to value it, thank your family and your friends." She describes herself as a decided, strong woman surrounded by friends and love.
"Life is Beautiful, you have to value it, thank your family and your friends".
- Mayra García, Storage Supervisor, Nuevo León.
This website celebrates the talent of the AlEn Women, by telling their inspiring stories and anecdotes accompanied by ilustrations made by AlEn women graphic designer.
Come back each month to read more stories from our inspiring AlEn women.