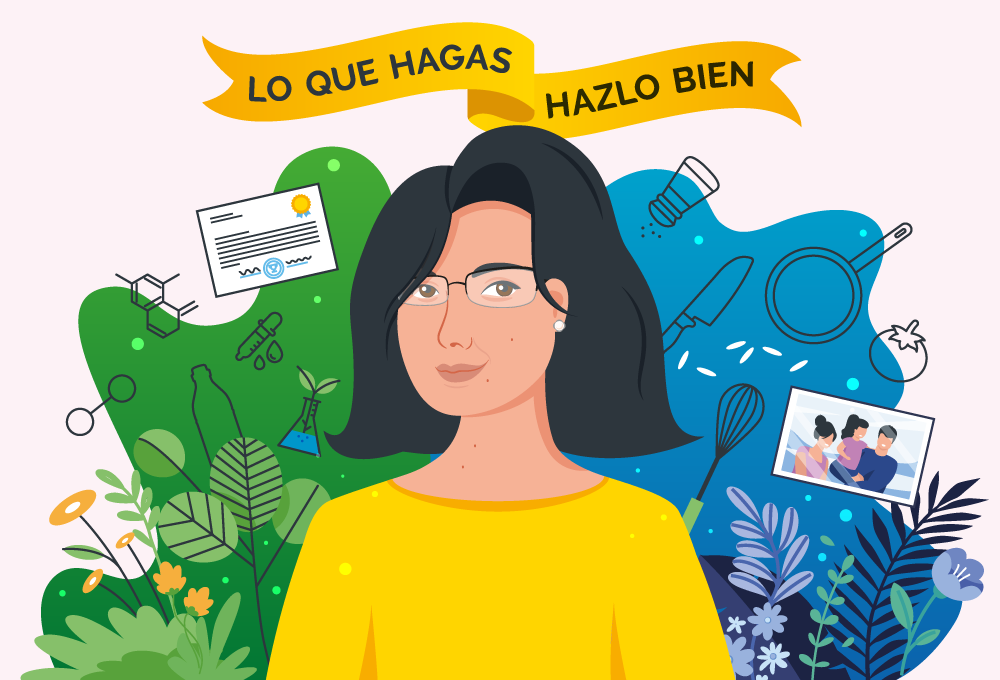 Nora Idalia
Monterrey, NL.
Illustration by Leonora Quintana Agency 361
Nora is originally from Nuevo León, she is the second daughter of a family of 4 siblings and is an Industrial Chemist. She is married, she has a daughter and soon will be a grandmother for the first time, for Nora her faith is one of the most important drivers in her life.
Nora loves and is passionate about her work, she is a perfect example of vocation. Nora has been a part of AlEn for more than 32 years and is currently part of the Research and Development team and has been a key element in the development of many of the product categories. She describes her daily activities at AlEn as "delivering value with a lot of passion."
From a young age and through AlEn she had the opportunity to travel abroad to develop professionally despite not knowing the language, living with dyslexia and being the first time she left the country. Her father Samuel, boosted her self-confidence making her recognize her ability, intelligence, and unparalleled resilience. Since that moment Nora has never moved away from a challenge and even now she looks for them and continues to surprise herself by overcoming them.
Nora grew up with AlEn and had the opportunity to meet and work with its founders. When her daughter was about to be born, she decided to take time away from work in order to dedicate 100% to the baby and enjoy the time and connection with Gaby to the fullest. 6 years later Nora became pregnant again, but that time she suffered the loss of her baby during pregnancy. This episode was overcome thanks to the strength of her family, her trust in faith and knowing that things happen for a reason.
A short time later, they called her again to rejoin AlEn to continue with great projects, challenges and innovations. One of the works that makes her feel proud is the reformulation of Ensueño using palm oil and its optimization. Her work on the rapid prototyping team has been instrumental in AlEn's latest product innovations.
Nora describes herself as a very blessed woman with a lot of love to give, who finds her happiness in putting her talent at the service of others. She likes to acknowledge the work of all team members, build trust and learn from them and for them to learn from her. Her favorite hobby is cooking and going for a walk to chat with her family.
Nora lives by the motto "Whatever you do, you have to do it well, do it for something greater than yourself, trust and always have faith"
"Whatever you do you have to do it well, do it for something greater than yourself, trust and always have faith".
- Nora Idalia, Formula Researcher, Monterrey.
This website celebrates the talent of the AlEn Women, by telling their inspiring stories and anecdotes accompanied by ilustrations made by AlEn women graphic designer.
Come back each month to read more stories from our inspiring AlEn women.